Affordable Connectivity Program
What is ACP?
The Affordable Connectivity Program (ACP) provides qualifying households with a monthly credit to help pay for internet service. If you are eligible, you may receive a credit of up to $30 per month toward your Beacon Broadband service. The ACP Discount is available for eligible residential internet customers.
The ACP Discount
Through the Affordable Connectivity Program, qualifying customers can receive a $30.00 monthly discount on internet service. 
The ACP is non-transferable and limited to one monthly internet discount. This includes any individual or group of individuals who are living together at the same address and share income and expenses.
The ACP is a federal government benefit program operated by the FCC and, if it ends, or when a household is no longer eligible, customers will be subject to Beacon Broadband's regular rates, terms, and conditions. 
Beacon Broadband works with the federal Affordable Connectivity Program (ACP) to provide financial assistance to eligible households for internet connections. Qualifying households get $30 off their monthly Beacon Broadband service and they get access to Beacon Broadband's 100/100 Mbps package. Here's how the ACP can help: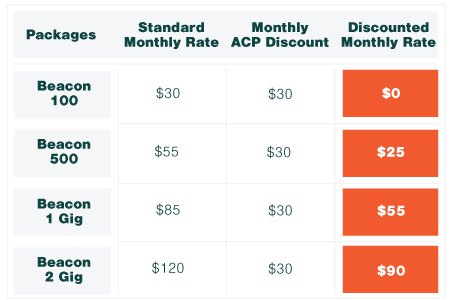 Do I Qualify?
A household may qualify for ACP if at least one member of the household meets one of the following criteria:
Income is at or below 200% or less than the federal poverty guidelines.
Participate in specific assistance programs, such as SNAP, Medicaid, Federal Public Housing Assistance, SSI, WIC, or Lifeline.
Participate in Tribal specific programs, such as Bureau of Indian Affairs General Assistance, Tribal TANF, or Food Distribution Program on Indian Reservations.
Approved to receive benefits under the free and reduced-price school lunch program or the school breakfast program, including through USDA Community Eligibility Provisions in the 2019-2020, 2020-2021, or 2021-2022 school year. 
Receive a Federal Pell Grant during the current award year. 
How Do I Enroll?
To see i you qualify and to enroll, click "Apply Now".