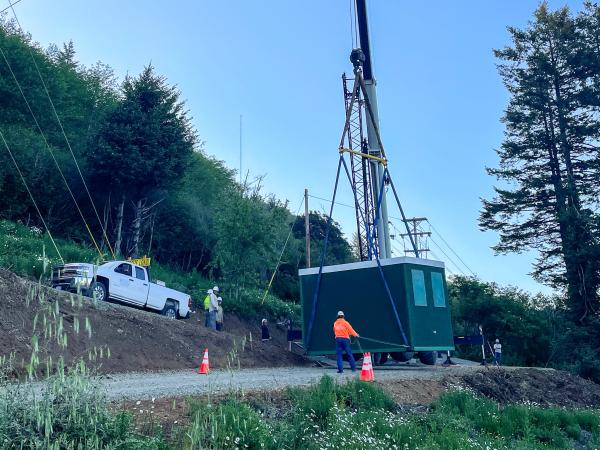 We're building a network of blazing-fast fiber-optic for every home in the CCEC territory.
Beacon Broadband recognizes the need for high-speed internet access for those living on the Southern Oregon Coast. For more than two years, CCEC has been studying the possibility of deploying high-speed fiber throughout its entire service territory (and beyond). About 20% of CCEC members are severely underserved and have limited access to high-speed internet. These members only have access through satellite service or a cellular data plan, neither of which is adequate in today's technology-driven world. CCEC created Beacon Broadband to solve this problem and close the urban/rural digital divide. 
We believe, like electricity, access to high-speed internet is essential.
Beacon Broadband and increased internet access will benefit our community:
Improve telemedicine, distance learning, and remote work opportunities
Create new ways for community members to connect with one another reducing isolation
Allow seasonal residents to monitor and care for their properties remotely
Increase property marketability and value with access to high-speed internet (studies show)
Enhanced potential for better cellular service 
Encourage regional economic development
 
In addition to providing high-speed internet access, Beacon Broadband will provide many indirect benefits to our community.
This project will drive economic growth:
Construction may be completed by contractors from outside of the area; however, those companies and their employees will spend time and money inside our region. 
A "hire local" requirement for the selected construction vendor may create jobs for Coos and Curry County residents.
Beacon Broadband will create new, permanent, and local jobs.
Increased high-speed internet access throughout the region may attract new businesses and spur entrepreneurial activity.
Better broadband throughout the region will make our area more appealing to the growing remote workforce.
CCEC and its members will benefit:
The fiber infrastructure will allow better management of our local power grid - reducing outages and decreasing the time it takes to restore power.
Improved communication will increase security at remote locations reducing opportunities for theft and vandalism.
Broadband will diversify revenue.
Beacon Broadband is a wholly-owned subsidiary of Coos-Curry Electric Cooperative. As exciting as it is to bring the high-speed fiber experience to the southern Oregon coast, we recognize a project of this size has associated risks. It is important that CCEC members are informed of some of the risks and the plan to mitigate them.
The project requires a significant investment – estimated at $60 million. CCEC has the financial strength to secure funding and lend funds to Beacon Broadband; by doing so, these loans could temporarily decrease CCEC's borrowing capacity and other financial metrics.

As part of the feasibility studies and project planning, CCEC established certain financial thresholds Beacon Broadband cannot exceed. When "stress testing" the business plan (that is, when testing various financial scenarios), CCEC found that the project can remain within established thresholds. CCEC and Beacon Broadband constantly monitor changing conditions to ensure CCEC's continued financial health.

Our weather and terrain pose unique challenges that may increase construction and operating costs beyond initial estimates.

As part of planning and evaluation, CCEC included a "weather and terrain" contingency for construction and maintenance in the BBI financial model.

A minimum number of subscribers is necessary to cover Beacon Broadband's overhead. If significantly fewer people than expected subscribe, CCEC could be responsible for the project's debt without sufficient revenue to cover those costs.

Operational subsidies from the Federal Communications Commission significantly reduce this risk.

The Infrastructure Investment and Jobs Act passed in November of 2021 includes $65 billion of broadband funding. Beacon Broadband will apply for funds it is eligible for under programs as they are developed. Any funds Beacon Broadband is able to secure from state and federal grants will help offset this risk.

Broadband is not a core service for CCEC. CCEC should stick to what it is good at doing.

CCEC has hired a team of professionals experienced in broadband development and operations to construct and operate Beacon Broadband.

Broadband is a competitive service with established providers in our region. Surveys have indicated about 80% of CCEC's members have internet access in their homes of some sort. Ziply Fiber is currently building fiber-to-the-premises in some areas.

Surveys have also indicated more than 55% of CCEC's members would be likely or very likely to switch to a broadband service provided by CCEC.

Beacon Broadband recognizes that there is competition in the marketplace. Beacon Broadband will provide a reliable product with exceptional local support to succeed in the competitive marketplace.

Technology is constantly evolving. Fiber-optic infrastructure could become obsolete as technology advances.

The fiber infrastructure itself has an anticipated lifespan of 30 to 50 years.

Most technological innovation in broadband is currently happening at the edge of the network – in the electronics. Beacon Broadband's business plan anticipates regular updates and upgrades of electronics.

Some communications technology developments – like 5G cellular – depend on significant fiber density through the areas they serve. Beacon Broadband can generate revenue supporting these developments as they come to the south coast area.